Welcome to the beginning of the first ever FBFF blogger awards. Here's how it works: Today participating FBFF bloggers will post their nominations in the 10 chosen categories. Those nominations will be tallied this weekend. The top three blogs for each category will then be put up for a vote to anyone and everyone. And then the winners in each of the 10 categories will be announced. Exciting!! And how perfect is this little FBFF challenge with the Grammy's happening a couple weekends ago and the Oscars this weekend?
For me, narrowing down the blogs I read and just pinpointing 10 that I think excel in all these areas is a little difficult. There are so many bloggers out there who are really amazing. They have spunk, charisma, charm and grace. Jointly we blog about fashion and beauty but we also blog about so much more. So, here's to all the bloggers out there who are trying to make a go of this little blogging hobby. Thank you for everything you do.
1. Creative Juices (most creative) HELLO, MONKEYFACE – I love what Monk has going on her blog. She manages anonymity while getting great photos that include her look from head to toe – not everyone can manage that with as much style and class as she does. Plus I'm pretty much jealous of her whole wardrobe. Big time honorable mention goes to Little Tin Soldier.
2. The Real Deal (authenticity) MISS VINYL AHOY – Thanks to blogging, Suze is someone I've gotten to know over the last several months and she is as authentic as they come. Her style is completely original and unique. She's not afraid to take fashion chances and she shares her life with her readers in such an open and sincere way that you feel close to her – or at least I do and I've never met her in person. We're secretly twins only I wear all the black clothes and she wears all the color.
3. Spark Notes (most helpful) GRIT AND GLAMOUR – Vahni has personally helped me through a number of blogging dilemmas in the last year. She shares her amazing knowledge of blogging with all of us with her posts (not to mention the Build a Better Blog page) and often guest blogs for IFB to further share pertinent blog information.  Plus she was one of the first bloggers to give FBFF a chance. Honorable mention to Beautifully Invisible – without her I wouldn't have been able to make the wordpress switch.
4. Newbie (best blogger under a year old) STYLE UNDERDOG – She's all about the Style Nation, having been blogging less than a year and already helping to plan a Fashion Blogger Meet-up in Vegas. Her sense of style is excellent, her closet is deep and she's a great mother. Oh and she's obsessed with Angry Birds – love that game too!  Honorable mention to The House in the Clouds – Love. Her. Style.
5. Can You Hear Me Now (most connected) STATEMENTS IN FASHION – Her Twitter Tuesday feature is the perfect example of how well-connected Collette is. She's a Twitter fiend, is great with emails, is starting her own fashion-inspired online magazine and has taken the blogging world by storm in less than a year's time. How's that for connected? You can check out the beginnings of her magazine at The Fashion 411. I, for one, am really looking forward to seeing this come alive and helping in the process. She's still looking to fill a few spots, so send Collette a note if you're interested.
6. If I had a Hammer (best DIY) A BEAUTIFUL MESS – Elsie is the mastermind behind Project Restyle, which has dozens of bloggers looking to re-use and re-purpose the things they already have to create something new and exciting. Plus she makes her own clothing and has a killer sense of design. If I wasn't on my shopping diet till June I would so be buying one of the new dresses featured on her site now. The Lemon Pie Dress is really spectacular.
7. Tribe Leader (blogger who leads others and brings them together) KENDI EVERYDAY – Without a doubt Kendi is a Tribe Leader extraordinaire. Her 30 for 30 Challenge, which started out as a personal quest has turned into an event that hundreds of bloggers take part in each season. And I love the fact that she is still so down to earth and real. Honorable mention to Jennine from The Coveted who is the inventor of IFB.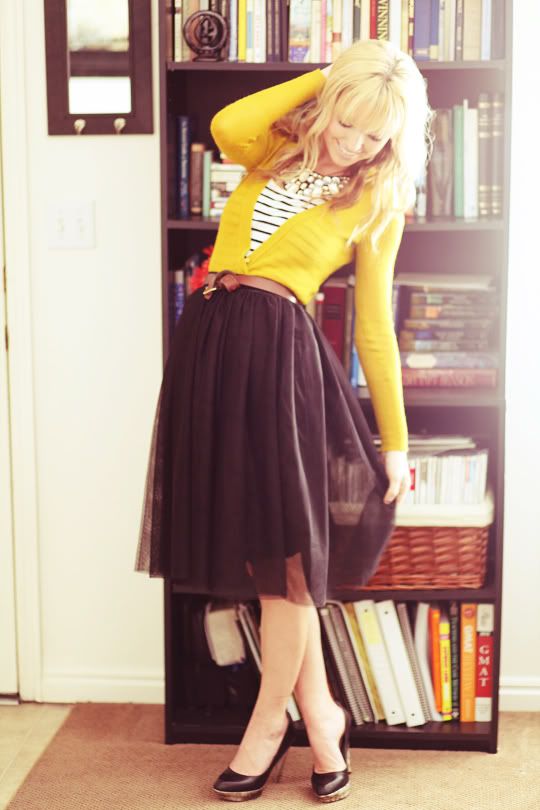 8. Practically Perfect (most fashionable) THE DAYBOOK – How in the world can I name one blogger in this category? But seriously, Sydney's sense of style is something I never get tired of. I'm pretty sure I would willing rock any item in her closet and all the looks she puts together. Plus, I love that all her fashion choices are totally realistic – no crazy expensive designers most of us can't afford. Just great looks. Oh and I'm totally jealous she can pull off the blonde hair so well.
9. Paint by Numbers (best beauty blogger) KANDEE JOHNSON – I realized as I was trying to come up with my favorite that I don't read too many beauty blogs. But Kandee is my favorite beauty vlogger and since she's got a blog to back up her YouTube channel I think that counts. You've got to check out her costume makeup tutorials! Astounding.
10. Renaissance Woman/Man (best all around blogger, fashion, beauty, lifestyle) PRETTY SHINY SPARKLY – To me Kristina is the epitome of an excellent all-around blogger. She's got DIY posts, videos, recipes, how-tos, outfit of the day posts and to top it off she's a class act – responding to emails, tweets, and offering helpful advice to beginner bloggers.
Well, that's a wrap for me. It's amazingly hard to narrow this list down to the ones I have here. There are so many spectacular bloggers out there. Which category is your favorite and who would you nominate?